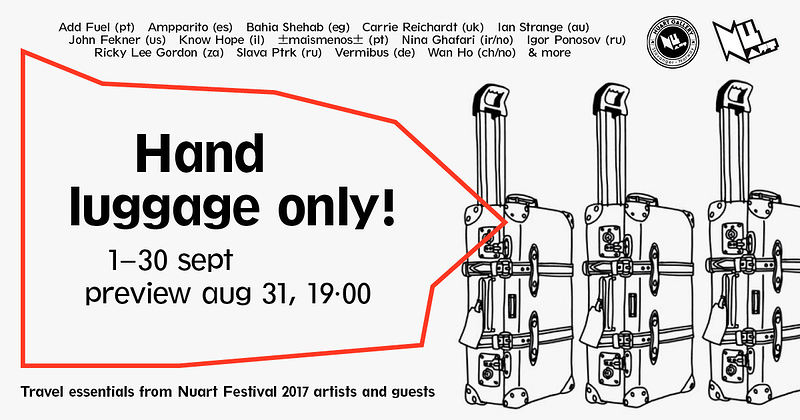 12 artists from 10 countries across 4 continents descended upon Stavanger to leave their mark for the 17th edition of NUART FESTIVAL. This years festival and academic program revolved around questions of power in the public sphere. Who has it, how do they wield it, what are the conduits to it and the mechanisms that control it. Is it distributed fairly and what happens when you challenge it ?
As artists flew in from around the world, we thought it would be apt to challenge them to start their journey into the theme of power in perhaps the one place we feel the least enabled, the least agency, the least sense of having control. The Airport.
Each artist has been challenged to produce work that will travel in their hand luggage. Work that could be questioned, scanned, justified, quarantined, stripped, bullied, fingerprinted, and ultmately…we hope, released for the show, where it will join work from local artists operating outside of the traditional artworld.
Featuring artworks and objects from Add Fuel (PT), Ampparito (ES), Bahia Shehab (EG), Carrie Reichardt (UK), Ian Strange (AU), John Fekner (US), Know Hope (IL), ±maismenos± (PT), Igor Ponosov (RU), Nina Ghafari (IR/NO), Ricky Lee Gordon (ZA), Slava Ptrk (RU), Vermibus (DE), Wan Ho (CH/NO) and more.
HAND LUGGAGE ONLY!
Travel essentials from Nuart Festival 2017.
Exhibition dates: 1.09 - 30.09
Opening times: Wed - Fri (11-17) and Sat (10-16)