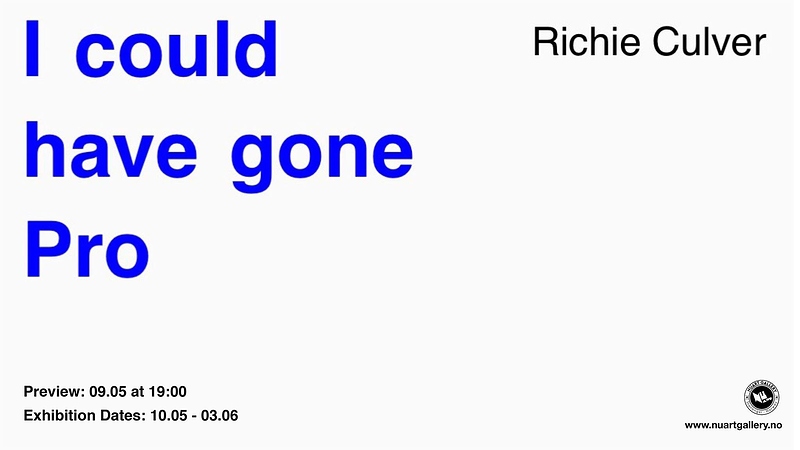 We are delighted to announce 'I Could Have Gone Pro', a solo show by British artist Richie Culver who will be joining us early May for a very special exhibition and residency.
Born in Withernsea, a town on the outskirts of Hull in Yorkshire, artist Richie Culver moved to London in 2000, when the 17-year-old followed his girlfriend to the city with only £8 in his pocket. Ten years later, Richie set the foundations for his career in art by creating his first artistic work: a magazine cut-out of a Jesse Owens photo with the words 'Have you ever really loved anyone?' stuck onto it.
Despite having not had any formal training, his first artwork was immediately featured in a group exhibition at Tate Modern and his demand for new work is growing exponentially together with his list of collectors.
His work is heavily autobiographical and since his first production, Richie has been working with photography, mixed-media installations, paintings, collages and the matching of words with images has become his strength.
"Provocateur, bearded mystic raconteur, tattooed romantic, enigmatic rising contemporary British artist, Culver falls in line with some of the great rebels of creative expression that have made the United Kingdom a landscape of artistic rebellion for the past 40 years in contrast to its powdered wig, high tea, keep calm and carry on reputation. From the social dissatisfaction that gave birth to the punk movement, Vivienne Westwood, to the gothic angst of new wave, to Damien Hirst, to Tracey Emin, Culver is part of a cultural evolution of artists with extremely unique and inspiring ideas." - Autre magazine
We very much look forward to see what he has in store for the show!
STAY TUNED - MORE INFO COMING SHORTLY!