http://www.picturesonwalls.com/Home.asp
Blir vel et par stykker som konkurrerer om dette printet så deler det her

Som å vinne i lotto dette, noen som fikk seg en Dolk - "Che XL" til 100 pund?

Var dessverre for sent ute til Dolken. Har aldri vunnet et lotteri før, ås dette hadde jo vært en god start. Lurer på hovr mange registreringer de får

Er jo opplag på 500, så regner jo med at jeg får en.
Eller?
Bare jeg som ikke kommer inn på nettsiden deres?
"Picturesonwalls will not be held responsible for any feeling of disappointment, especially if you are successful."
When looking at your ability to be a lottery winner, you are…
– 305x more likely to be struck by lightening.
– 207x more likely to be dealt a royal flush.
– 7x more likely to be dealt a royal flush, bet the winnings on 00 in roulette, and win.
– 10,336x more likely to be more Albino.
– 24x more likely to be executed in the United States.
– 3x more likely to be placed on death row and then exonerated.
– 1,004,065x more likely to be audited by the IRS.
– 3,514,230x more likely to be smart enough to be in Mensa.
– 7,028,461x more likely to be following Lady Gaga.
Jeg/vi/alle er så fucked i dette lotteriet. Mikroskopisk sjanse. Men likevel. Jeg signet opp. Lykke til alle sammen, hadde vært morsomt hvis noen på forumet snagget en

Nu har selv jeg meldt meg på.
Så får vi se, kanskje den med minst street art preferanser slår til.
Hvor stort er dette trykket?
Det er ikke usannsynlig at det er 70x50 cm.
Har nå vunnet i lotto før, så kan jo håpe her også

Vet man når trekningen skal foregå?
sto vell noe om 2.november
Er POW en troverdig side?
Eg er nybegynner innen kunsthandel, men til og med eg syntes dette høres nesten for godt ut til å være sant?
Regner med å få en haug med spam mail og lignende etter registrering, men om man sko få mail om tilslag så er det troverdig mtp betaling av 500£?
Her er Terms and conditions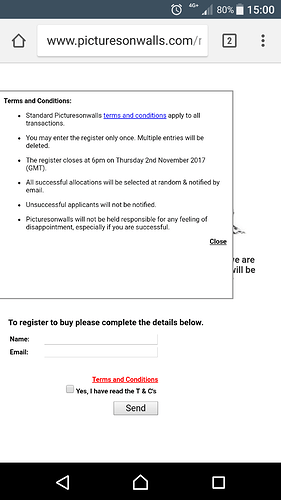 Tror du kan være helt rolig på at POW er troverdig.
THE POW STORY
POW was started sixteen years ago by a loose collection of graffiti artists and illustrators shunned by the controlling influences of the day. Working from borrowed office space in East London we set about producing, promoting and distributing our own art.
The invention of the internet and the cardboard tube enabled us to circumvent the centuries-old grip of the established art world and we laid waste to their cronyism and vested interests and good taste. We delivered a new generation of art directly into people's homes. Well, the Royal Mail did most of it.
Somewhere along the way we mastered our craft and many POW prints have become benchmarks within the industry. We pioneered the use of foil block, embossing and glitter colours and we were the first in the industry to use non-solvent based inks. We never put anything down the drain except effort.
Throughout it all POW has remained an independent, artist-run operation, organising landmark exhibitions and pioneering the concept of a shit pop-up shop long before it became fashionable.
However, inevitably disaster struck - and many of our artists became successful. Street Art was welcomed into mainstream culture with the benign shrug of a hippy parent. The clocks didn't stop, society didn't seem to improve or even care and the art we produced became another tradeable commodity, despite our best efforts at poor customer service and price fixing. Regrettably some POW prints have now become worth tens of thousands of pounds.
So this is it, the writing is on the wall. POW has proved unwilling or unable to become the sort of professional retail outlet that services a demand whether our hearts are in it or not. Its time to call it quits. Well, it was time to call it quits about three years ago, but hey…
Thanks for your interest, your patience and your custom. Please join us in our next venture.
x POW
Helt troverdig, du kan trygt melde deg på i konkurransen!
Vinner du får du kunsthistorie på veggen