Her er full info på denne

Medium: Print on Canson Edition Etching Rag 310 gram
Image size: 78 x 55 cm
Paper size: 88 x 65 cm
Edition of 290
Signed and numbered
Price: € 500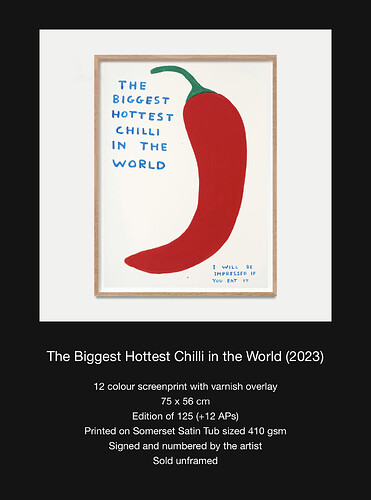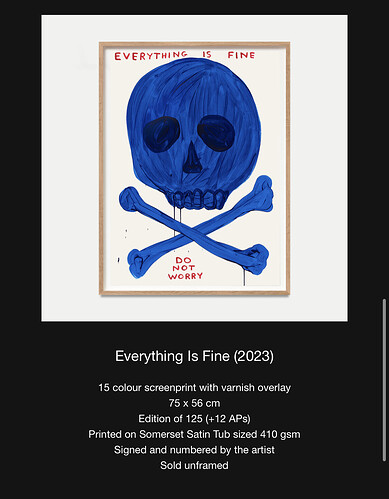 We are launching two new David Shrigley limited edition screenprints, The Biggest Hottest Chilli in the World and Everything Is Fine .
To buy a print at the starting price of €1800 you must enter our lottery draw!
If you are selected in the draw you will have only 24 hours to buy your print - if you miss the deadline, your window to buy will expire and the print will be offered to the next lucky person in line.
For those who are not successful in the lottery, more prints will be available on our webshop at a higher price on a first come first served basis on Friday 2 June, 15:00 CEST.
Key Information

Lottery draw prints cost €1800 incl. VAT

Shipping costs €120 worldwide

Prints are signed and numbered by the artist on the reverse

Prints will be shipped in early September
Detailed information about how the lottery will work can be found when you register, which we encourage you to read.
Please note that to give everyone a fair chance you should only sign up once, otherwise your registrations will be cancelled.
Registration is open now and closes on Monday 29 May, 15:00 CEST.
Ryan Travis Christian kommer med to nye slipp snart.
Et i samarbeid med Avant Arte.
CHATTE PARFAITE

$ 5 484
Edition of 30
Edition details
Dimensions
14.2in x 10.6in x 7.1in
Medium
Painted bronze sculpture with acrylic frame containing a unique work on paper.
Finishing
Each work on paper is signed and dated on the rear. Each sculpture is engraved with a signature and edition size on the rear.
Release date
June 20, 2023
Trykket slippes i samarbeid med Louis Buhl og popinked. Har ikke noe mer info en det jeg fant på IG. Synes det var et morsomt trykk. Hvis noen har noe info om dette slippet del gjerne.

Untitled

Edition details
$ 2 742
Edition of 50
Dimensions
Unframed: 18.9in x 15.7in
Framed: 19.3in x 16.5in x 1.6in
Framing
Artworks arrive mounted in a bespoke, unglazed oak wood frame.
Medium
Tapestry with 483,422 stitches, embroidered in 24 colours on cotton moleskin.
Finishing
Certificate of authenticity affixed to reverse of frame.
Release date
June 16, 2023
A Warm Garden

Edition details
$ 933
Edition of 50
Dimensions
Unframed: 19.7in x 15.7in
Framed: 22.8in x 18.5in x 1.2in
Framing
Prints can be ordered float-mounted in a bespoke dark American walnut wood frame, fitted with cast UV plexiglass for protection.
Medium
UV pigment print with 2 silkscreen layers and varnish on 410gsm Somerset Tub Sized Radiant White paper.
Finishing
Signed, dated and numbered by the artist.
Release date
June 14, 2023
hei!
Om noen er interessert i siste trykk fra shrigley, ta kontakt. Change of heart hos meg.
Gjelder denne: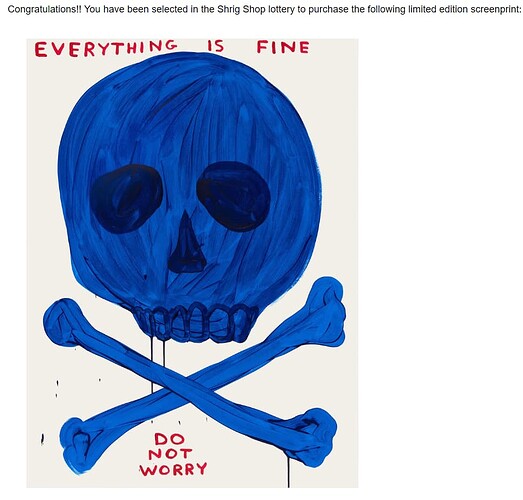 Sjekk mailen deres dere som ønsker
"SELF" Fine-Art Edition, Available Now : 'Early Drop' Password Required
The Steven Harrington "Self" screen-print is now available to our "Early-Drop Art Collectors" list. Please visit the Steven Harrington Shop and type in the PASSWORD: "xxxxxxx" for early drop purchase. Please note - 1 per person, first come, first serve.
More about the Screenprint: We're excited to offer our first Limited-Edition art print of this year. Measuring 32 inches wide by 40 inches tall, "Self" was screen-printed by hand using twelve custom colors + a gloss black finish. Limited edition of 120 prints worldwide, signed and numbered by the artist, including a signed "Certificate Of Authenticity." Printed on 320gsm Coventry Rag paper with deckled edges. Once sold-out, the same print will never be reproduced.
Ships wrapped in Glassine protective paper, rolled in large heavyweight durable tube.
Price includes insurance and shipping worldwide. All Sales Final. Thank you for your continued support.
Ships Monday, June 5th.
Note: Due to high demand we expect this piece to sell out quickly. This email-list is "first come-first serve." If you miss this first "early drop" then please visit the Steven Harrington Shop next Friday June 2nd, at 10:00am PST for the public release.