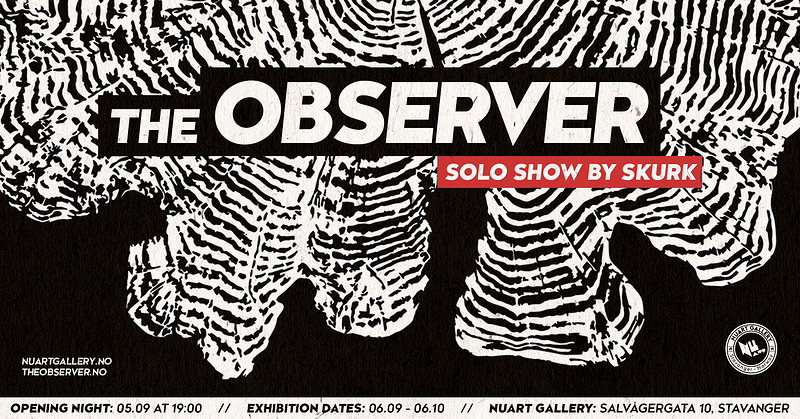 It gives us great pleasure to announce 'The Observer', a solo show by Bergen based artist Skurk (NO).
Exhibition dates: September 5th – October 6th
Opening night: 05.09 at 19:00
Nuart Gallery - Salvågergata 10, Stavanger (NO)
:::::::::::::::::::::::::::::::::
The Observer as a concept stems from the artist's deep-rooted fascination with the woods and a growing desire to leave behind all the digital tools of the trade. Every single artwork is the result of a time-consuming, labour-intensive and exclusively analogue process. Within each one lies a hidden message, seamlessly blended in with the tree-rings. An observation of a time and place in history that this particular tree has lived through.
The exhibition showcases original artworks on paper as well as on canvas which are hand printed directly from the wooden source. There will also be a selection of screen prints, including a triptych of the original observers that marked the beginning of this year-long study. In addition to the visual art contributions, Skurk has also collaborated with Bergen's sound designers to bring out the voice of the trees. The result can be heard and bought at the exhibition in the form of a beautifully crafted vinyl.
As the artists states, "The Observer is by far the most complicated and extensive project I have undertaken. I hope you enjoy the exhibition as much as I have enjoyed making it."
We very much look forward to welcome Skurk to the Gallery!
*Disclaimer: no living trees were intentionally harmed in the making of the exhibition. The woodcuts used in the process were foraged exclusively from fallen trees from the hills and valleys of western Norway.
:::::::::::::::::::::::::::::::::
ARTIST BIO
SKURK has been a fixture within the Bergen street art scene since 2013, but it wasn't until 2016 that the artist got his international break with the mural Angler Fish at Rådalslien School. The piece, which incorporates both the connected staircase and wall lamps in its clever design, went viral after being picked up by the online street art community.
In the years since, SKURK has experimented with a variety of visual expressions while in the search of his own niche. In the artist's own words, "Having your art recognized is a fantastic motivational boost, but what really drives me is constant self-development. Trying out new techniques and looking for unique ways of expressing myself."
In 2017, SKURK donated the mural Piece of Mind and a cut from the accompanying print release to the charity, Psych Aid, which offered psychosocial aid to children suffering from war trauma. This piece, much like the Angler Fish before it, signaled a clear change of direction for SKURK in terms of both visual style and thematic, and has acted as stepping stone towards his current project The Observer.
:::::::::::::::::::::::::::
www.nuartgallery.no
www.theobserver.no
For interest and sales enquiries please contact us on sales@nuartgallery.no